ProDongle Application
A complete solution that is always available
The ProDongle application is accessible via any PC, smartphone and tablet and has a wide range of solutions. The application and all modules are included in the price.
By only activating the desired solutions, the application remains clear and user friendly. On the basis of configurable roles, people have access to the right information and functionalities.
Step 1

Plug in or install
Step 2

Log into the cloud application

No software needs to be installed. Logging into the cloud application can be done via any PC, smartphone and tablet. The latest information, live traffic information and solutions are available at any time.
Step 3

Manage and report

Depending on the role, access is given to the right information and functionalities. Stay informed at all times via the many email alerts and reports.
Automatic location & time reporting
All data such as driving times, working hours, locations, speeds, engine speeds, engine fault codes, battery voltage ... are stored in our database. With our location and time logarithms the trips are automatically divided into business, private or home-work trips, all clearly arranged in calendar or table form with respective kilometres. Departure and arrival times as well as the actual working time with location and customer name are also displayed.
Receive custom reports and alerts
When your employee is driving recklessly, driving outside working hours or when your replacement or test vehicles crosses the national border, you can receive warnings. Thanks to fully customizable warnings, you can immediately see when one of the adjustable thresholds is exceeded. It is impossible to cheat unnoticed, as plugging out and plugging in again with time and location is reported by e-mail.
The Privacy Mode makes it possible to hide all information about a trip from the administrator. This way your employees can, depending on their attitude (private , home-work or all trips), enjoy privacy for the non-work trips.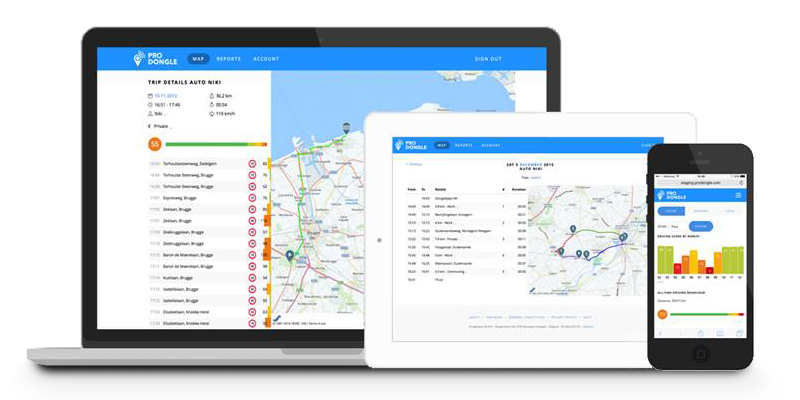 Do you also want a complete product without surprises?
Easy to use
Pan-European operation with professional maps
Unlimited positions, kms & users
Helpdesk, software & map updates included
Accessible via any PC, smartphone and tablet
Own software, integration via API possible